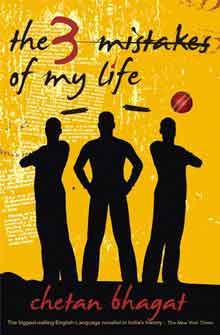 I finished reading Chetan Bhagat's new offering "The 3 mistakes of my life". It's the story of one Govind Patel, a 25 yr old businessman. The story is set in Ahmedabad. Chetan's story telling abilities come to the fore as he takes the story through different different episodes, spanning three years or so…

The reason why 5 point someone, Chetan's first book, was such a hit, coz he made the story seem like his own. His writing is blog like, no hi-fi words, no phrases, just simple feel good stories… Btw, if you thought Chetan was actually a 5 pointer, u are mistaken..Chetan has always dodged questions related to his GPA in IIT.. But the point is, the fabulous characterization makes readers believe that he is incidents which actually took place.. This superb semi-fictional style of writing coupled with fantastic characterization makes Chetan such a favorite among twentysomethings..

Coming to 3 mistakes.. 3 mistakes, as far as characterization is considered is a sequel to 5 point… The characters Govind, Ishant, Omi and Vidya are photocopies of Hari, Ryan, Alok and Neha respectively.. Vidya whos Govind's love interest is precariously close to Neha's character.. She has the same smile,same hair, same round face.. She even wears the same clothes as Neha.. Sometimes I had to wonder if Vidya was actually wearing Neha's hand-me-downs.

The story goes through many episodes- Bhuj earthquake, terrorist attack on the two towers, Godhra riots.. While it may be unnerving for any other writer to research and write about all this, Chetan does it with flair..

Would I recommend "3 mistakes.."?? Ofcourse I would, read it if you liked "5 point..". If you didn't like 5 point, which is weird, then don't read it.. I think only if you read books like - The Alchemist and The Fountainhead in the 8th grade, and don't like light reading should you keep away from "3 mistakes..", else, it's a buy!

Like Govind would say -
Its a straight 6!..


the 3 mistakes of my life...
Editor in chief Arshat Chaudhary
Current Issues:
3 mistakes of my life
,
5 point someone
,
chetan bhagat