I have nothing to write.
Have no inspiration lately.
I open blogger wanting to write something and end up staring at the blank screen for hours like a
loser
...
Loser
se yaad aaya
, what has gotten into Kolkatta Knight Riders? Suddenly, I have new found respect for Ricky Ponting. How did he manage to win all those matches with an
ass
for a coach(John Buchanan).
Ass
se yaad aaya
, what is wrong with Imran Hashmi.. aaj-kal koi movie nahi aa rahi bande ki.. He has done more movies in the last 5 years than what Aamir Khan has done in his two decade old career.
Note that, it was Aamir Khan who held the record for maximum kisses (on screen of course) and he was conviniently replaced by Imran in his
debut
year.
Debut
se yaad aaya
, Varun Gandhi made quite a debut in Politics in and as
"Pilibhit ka goonda"
. He went overboard with his anctics, gave communal speeches which made LK Advani and Narendra Modi sound secular. Its almost certain that Pilibhit is voting for Varun this Loksabha elections. Next LS elections we can wait for his next movie -
"The return of the

goonda

"
.
Goonda
se yaad aaya
, did you guys know Gulshan grover is the brand ambassador for the apparels chain - "The loot".
I mean, what were the Marketing guys thinking? How could you have someone whos every third line is - "Baaaad maaan" as your brand ambassador. Wouldnt it make more sense to have someone like Ranbir Kapoor or Imran Khan as your brand ambassador if you are selling clothes? The truth is, Gulshan Grover himself doesnt like clothes much, if he did, he wouldnt rip them off the heroine in evey fifth movie. Gulshan Grover selling clothes is like Rishi Kapoor selling annual memberships for Talwalkars
gym
.
Gym
se yaad aaya
, dont you think Mayawati should join a gym. Shes getting real big and disfigured, not to mean that she was as figure-y as Madhuri Dixit when she was young, but she really needs a workout. If she reads this blog(which in all probability she does considering my popularity) she is bound to say
"Abbe budbak, main UP ki CM hoon.. Koi nahi aayega mere aur mere khaane ke beach."
"Beach? But ma'am as far as I know there is no sea or beach in UP!"
"Abbe gadhe, there is a beach.. Playground ke beachon beach."
Hehehe... er.. sorry you had to hear a joke that bad. I am a little low on intelligence(I meant today, usually I am okay). But seriously, she needs to workout. Shes turning into the symbol of her party. Arre the symbol of her party is
Elephant
. Itna bhi nahi jaante (Kya jhakaas knowledge hai na mera Mayawati ke baare mein!).


Elephant
se yaad aya
, Ramesh Powar just gained a few more pounds. Had I been the owner of Kolkatta Knight Riders, I would buy Powar for 8 crore rupees. I think hes by far the best player in IPL right now. He can single handedly win matches. How? Here goes my strategy. But this strategy works only when KKR bat first.-
Send Powar to open. That McCulluam is an idoit. Gayle-Powar should open. Make Powar run on the pitch. The pitch will crumble under his weight. When we come to bowl we have a minefield of a pitch. Make Powar open the bowling too. On a cracked pitch even Murli Karthik can be fatal, toh
Powar
ki toh baat hi alag hai. Powar will end up picking up 10 wickets in 4 overs.


Powar
se yaad aaya
, do you guys remember which bat Sachin Tendulkar used before he started using MRF ka balla? Yes guessed it right! Power!
Sachin used to feature in print ads of Power, he also used to feature in that Action shoes wala comercial - "Joota hai ya light.. joote main hai light!" Do you know who was the girl in that commercial? Socho socho.. shenaz!! Yeah, that Ishq Vishq wali girl.. She played Shahid Kapoor's girlfriend, second girlfriend actually.. The first one was that Parkinsson disease wali girl, whats her name, yeah, Amrita Rao, she shakes her head a lot when she delivers her dialogues, next time, kindly
note
.
Note
se yaad aaya
, MBA education is very costly yaar.. Majak-majak mein bahut kharcha hone wala hai. And because of this recession I am not even sure if I will be able to recover the money that I have put in. The condition is bad for guys like me who have all their earnings in white. Now only if I had done some ghootala or something, I would have a lot of
black
money to splurge...
Black
se yaad aaya
, Obama (I am so racist
) should come up with something to resurrect this recession thingy. He should take our PM's help if necessary, afterall Manmohan singh is by far the best Finance minister we had.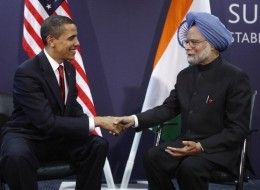 If Obama can have a cup of tea with him, they will definitely come up with some solution. All we need is some Tea, marie biscuits and some
baat
-cheet...
Baat
se yaad aaya
, I have to take a bath.. Bahut din ho gaye..
Warnings:
1.Reading this post can cause temporary neuron damage. What? You already read it and are cursing your friend who recommended you this blog? Please dont, your friend's intentions were good, mine werent!
2.This blog takes no responsibility for the low marks scored by Delhi students(rest of India is done with exams) due to the brain damage caused by this post.
Title se yaad aaya...
Editor in chief arshat chaudhary
Current Issues:
aamir khan
,
gulshan grover
,
imran hashmi
,
mayawati
,
Obama
,
ricky ponting
,
Sachin Tendulkar
,
the loot